HALO Office brings lasting beauty and innovation to the workspace. Encircled by the HALO soft edge, unique protection is provided for both desk and chair with patented impact-resistance. Cleanly integrated adjustable-height controls, smart cable management, and breathtaking cantilevered surfaces create functional, visually-stunning desking solutions. Thoughtful, modern storage components configure to meet every need and create perfectly-tailored solutions for your unique office. Patents US11154130B2, US10743654B2, US10506874B2, US9955787B2
Best of NeoCon

Gold Award | Case Goods

Interior Design Magazine

Best of Year Honoree 2019

Best of NeoCon

Silver Award | Furniture Systems

Interior Design Magazine

HiP Award Honoree 2019
Product design consultant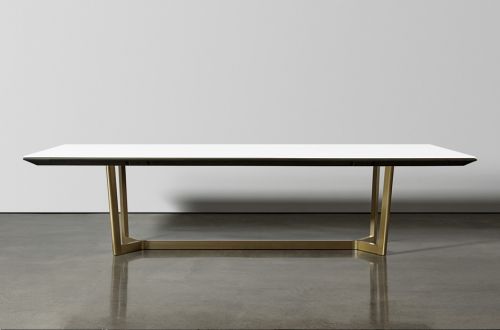 Gensler
Gensler is a global architecture, design, and planning firm with 47 locations and more than 5,000 professionals networked worldwide. Founded in 1965, the firm serves more than 3,500 active clients in virtually every industry. Gensler designers strive to make the places people live, work and play more inspiring, more resilient, and more impactful.
As a leader in research and workplace innovation, Gensler's perspective on product design is informed by findings of our ongoing internal research efforts and through completed and ongoing projects across the globe. Gensler's product designs are consistently recognized in the industry as award-winning work, and lauded by customers who value design quality and intelligent solutions.
Materials
Halo Office Edge
|
Desk worksurfaces are encircled by the revolutionary Halo soft edge, providing patented protection with impact-resistance.
Halo Metal
|
Wood
|
Premium veneers are sequence-matched and balanced by skilled artisans one-office-at-a-time for the best, most beautiful veneer match possible. Our durable, Certified Green polyurethane finishes are formulated for clarity and depth to enhance the natural beauty of wood.
Chemcolor
|
Chemcolor delivers rich, beautiful color in solid hues or metallic tones. Chemcolor is environmentally conscious and MAS Certified Green, just like our wood finishes. We'll also match your favorite color on any order, just ask.
Backpainted Glass
|
Beautiful and durable, backpainted glass can be specified in a polished (glossy) or etched (satin) surface finish. We'll also match your desired color for any project, just ask.
FENIX NTM
|
FENIX NTM is an innovative material utilizing nanotechnology and advanced acrylic resins. With low light reflectivity, its surface is anti-fingerprint with a very pleasant soft touch. This durable finish is available on composite resin table tops. Please contact HALCON for additional FENIX NTM finishes.
Resources