Innovative perimeter power and data drawers deliver a seamless, intuitive interface that is literally at your fingertips. MESA pairs integrated technology with an uncompromising, award-winning design for the meeting spaces of today and tomorrow.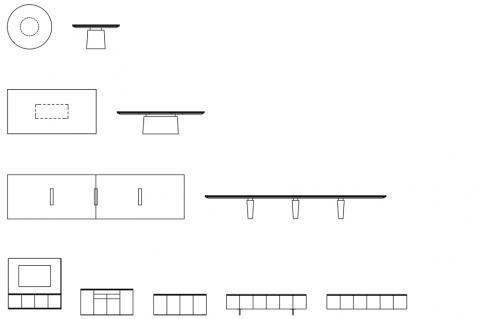 Eliminate surface clutter and comfortably connect with Mesa. Innovative, integrated drawers deliver technology to your fingertips with configurable power and Extron AAP data modules.
Table surfaces are pure in material and form, with cantilevered spans engineered for beauty and comfort. Available in any size and shape imaginable, surfaces can be specified in stone, glass, wood, and more.
Mesa's patented perimeter edge is offered in a range of metal or wood finishes. Table bases are beautifully crafted in wood or metal.
Beautiful storage and credenzas options complement Mesa tables and can be configured to meet any need. True flexibility results in a perfectly-tailored solution for your unique meeting space.
US Patent | D799251 S1
Mesa Metal
|
Wood
|
Premium veneers are sequence-matched and balanced by skilled artisans one-office-at-a-time for the best, most beautiful veneer match possible. Our durable, Certified Green polyurethane finishes are formulated for clarity and depth to enhance the natural beauty of wood.
Chemcolor
|
Chemcolor delivers rich, beautiful color in solid hues or metallic tones. Chemcolor is environmentally conscious and MAS Certified Green, just like our wood finishes. We'll also match your favorite color on any order, just ask.
More
|
Mesa surfaces can be specified in nearly any material for your project: Wood, glass, stone, solid-surfacing, laminate, and more.